Be@rbrick Preview – March of the bears
Good morning to all on a sunny, sunny Saturday morning (at least in Singapore).
The exorbitant price for the release of Mastermind x Sense Be@rbrick at 50,000 yen came as a surprise to me, though it was bundled with a book.
As for the Isetan Men's be@rbrick, they have enough sets to go around at Isetan Shinjuku, and more sets released online at different intervals followingthe store release. My personal estimation on the actual quantity for Isetan Men's be@rbrick would be around 500 – 700 sets.
Zikzin 400% Be@rbricks was not that exclusive as the website made out to be. Despite retailing at 9,300 yen, resellers are just letting them go at around 12,000 yen each. Grab it before the price goes up.
The Sevendays=Sunday 400% be@rbrick will be released in March 2014 instead of February. Why it was adjourned is anyone's guess but lets save the money till another month.
March's releases may look easier on the wallet, but it's actually not.
Andy Warhol 100% be@rbricks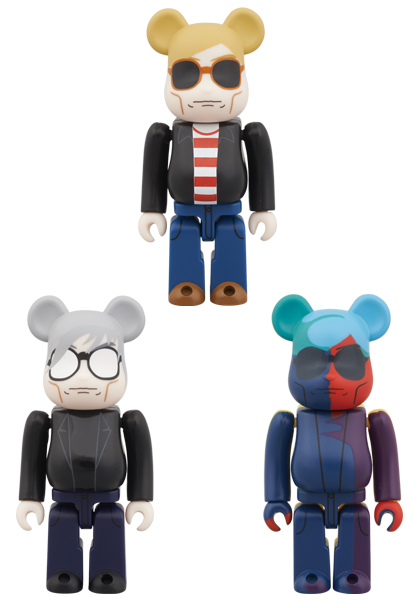 Pictures courtesy of Medicom Toy Corporation
Releasing as exhibition sale items at Mori Art Museum, Japan, these 3 pieces will never have a shortage of suitors who are into AW's art. Exhibition tickets are priced at 1,500 yen each, with each be@rbrick at 1,500 yen. Touted as the biggest Andy Warhol exhibition in Japan, expect these to be sold out.
Winnie the Pooh Be@rbrick 400%
Oh yes, my favourite piece of the month. This is a creation between Medicom and Kidokyo, who holds a dream job of many. He holds design portfolios for Disney Consumer Products, Lego, Medicom and Hot Toys. Expected arrival for this piece is in August 2014, ample time to save up for this piece though Medicom has opened preorder for this baby.
You will also see a 100% Mazinger Z Be@rbrick release in chrome colours and Kabuto Ko-ji be@rbrick 100% under the March pre-order list.
The be@rbrick rule – A quiet month is an indication of a subsequent busy month. Have a great weekend with your loved ones!
Till then,
Shawn
828 Be@rbricks read this post.